We often get asked how our rope access teams manage heavy materials on rope. Rope Access offers the same versatility and agility for equipment as it does our technicians. It may not be obvious because our industry generally works in hard to access areas, just outside of the peripheral scope of observation.
Companies often don't immediately consider Rope Access if they require heavy lifting, but we are here to answer some of the most common questions to equip you with more options when it comes to planning your projects.


1) How much can you possibly lift using only ropes?
Every project is unique and has different requirements. There is no one size fits all when it comes to lifting equipment, but when using ropes for lifting, we have to take SWL (Safe Working Load) and MBS (Minimum Breaking Strength) of the ropes and associated rigging and lifting components into account. There are several specific ropes specifically designed for lifting operations (for example, the Sterling VerGo 5/8" has a breaking strength of over 9 ton!).
For heavy loads, we need to take into consideration a few factors including; safety, lifting capacity, suitable rope, winches for hauling, connectors, and anchors/anchorage. Together, we create a system and strategy for lifting heavy loads. For example, lifting capacity with ropes can vary, so we're not just using traditional rope access and rescue equipment for hauling. We will incorporate cable winch or hoist options, or work with cranes when needed. We'll devise a strategy that encompasses the most efficient and suitable techniques and equipment to maximize productivity.
In the case of a cable bridge, we installed davit arms with motorized winches on the rooftop (535ft bridge) to assist in lifting the de-icing mechanisms to the work locations. Our expertise in positional work at height installing equipment, was precisely what this project required, and in collaboration between all parties for designing, lifting, and installing we completed the project successfully.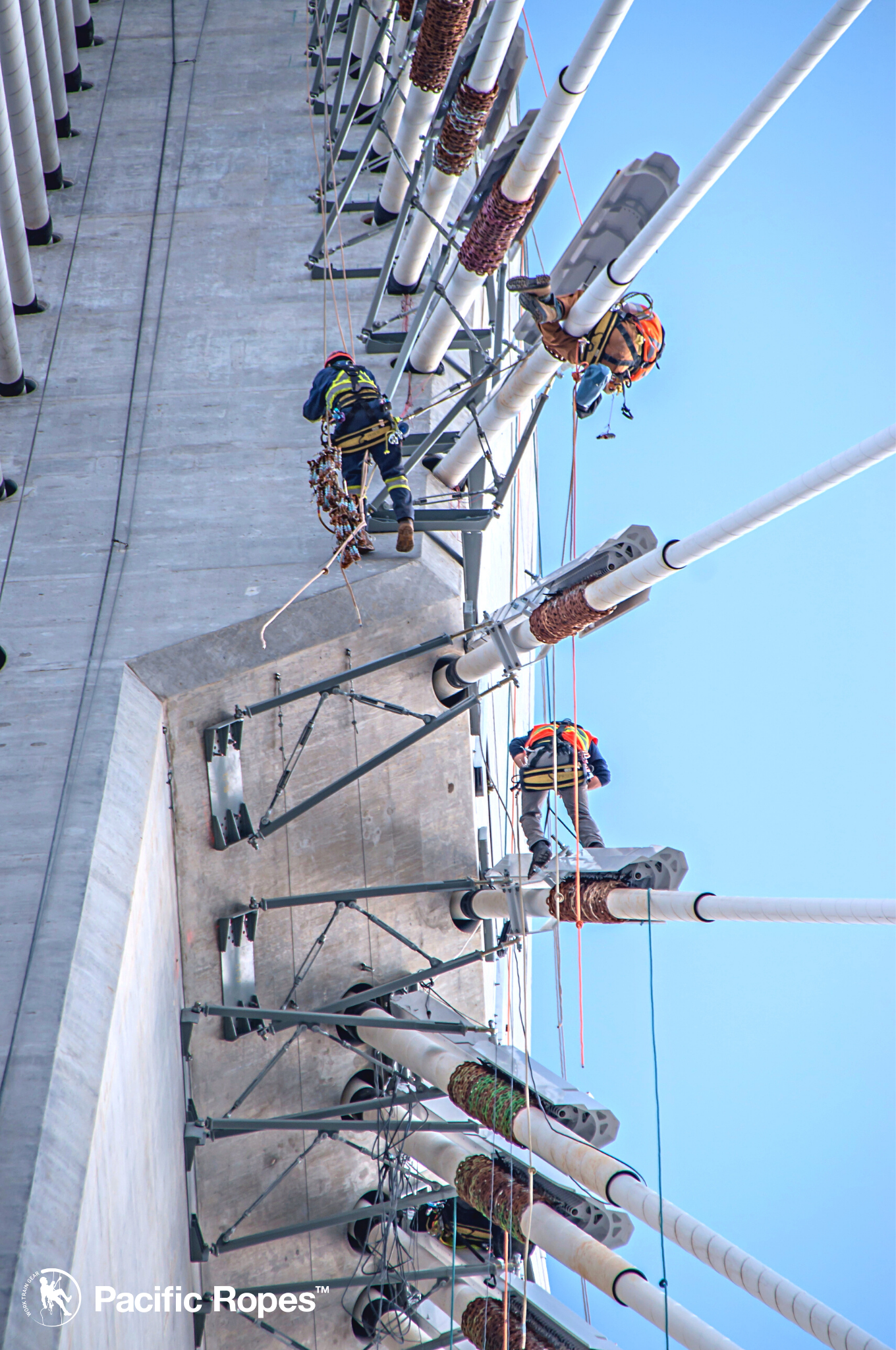 2) Why would you use ropes to lift when there is equipment already available for that purpose then?
There are times when we've been called upon to bring out rope lifting systems when other systems have failed. Or, when the work is situated in remote locations. Transporting lifting equipment to these remote areas in itself is the challenge.
For example, in the case of a hydro electric dam, we had to replace the dam gates (lifting them out of their working location for repairs). Since setting up an engineered scaffolding system was not cost effective or reliable in this remote location, our clients turned to rope access as an option to assist in the lifting operations. Our technicians used rope access to install anchors and rigging in hard to reach areas. Once the gates were securely rigged, we used hoists and cranes to lift and remove the gates.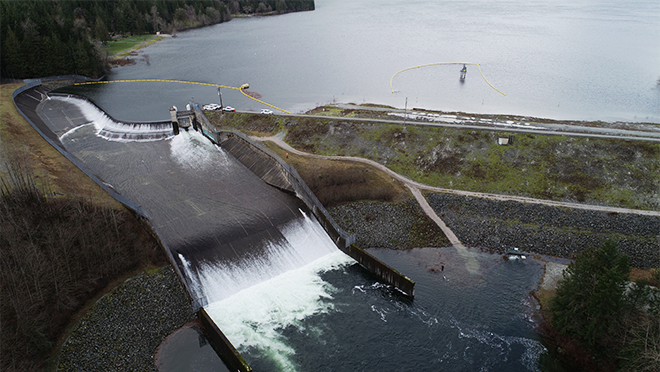 In other situations, large lifting equipment is literally too bulky to install, as is the case of the cable stay bridge in the photo below. The inside of the 505ft towers of the bridge leaves little room for large equipment. Our client needed to install various electric components with power leads within these tower. We engineered and provided the capabilities (winch option) to lift and install these assets inside the towers.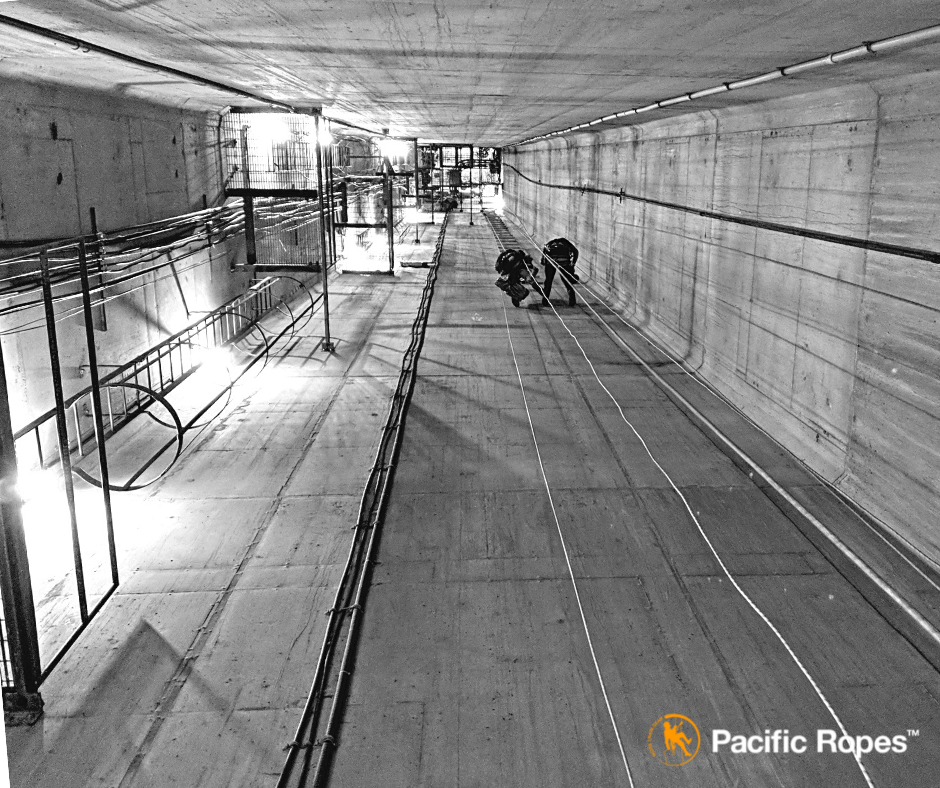 3) Are rope technicians trained for lifting and using heavy materials?
Rope Access technicians can work within their training and the limitations of their equipment. We also have specialist rope access technicians trained in asset installations. But when working with cranes, hoists, etc.; additional training is required. We collaborate with our team to ensure that the system of lifting is designed, operated, and installed by technicians with the proper training in each of their respective areas.


4) Is it more efficient in cost and time?
Rope Access can offer efficiency in cost or time, or both in some cases. However, that's all dependent on the system. In some cases, Rope Access is used to take over when other traditional lifting equipment has failed. That could be savings in time, but the answer is not so straight forward for all projects. For example, from our experience with smaller loads (under 1000 lbs), we see higher efficiency in terms of travel time which can increase productivity for installations. There are other scenarios where Rope Access was a means to install heavy equipment and our services were utilized in conjunction with other techniques/equipment to optimize progress.

Conclusion
In summary, working with or lifting heavy materials is not a limitation for rope access. We provide the service of efficient accessibility, when traditional options seem too complicated for what it's worth. Cranes, lifting equipment, scaffolding, platforms, are all conventional and can lift and support heavy objects, but there are scenarios when those options run their course.
Pacific Ropes is able to accomplish large scale operations, tasks, and projects with thorough planning, equipment, and techniques, while ensuring safety and efficiency. If you are encountering challenges in accessibility, reach out to us for options!
Read more about what services we offer with Rope Access or request a brochure!