Your rope access equipment is the barrier between you and the ground. The only thing helping you defy gravity is the gear from your toes to anchors, so keeping everything in between in good working order is a priority! Worksafe BC and all Occupational Health and Safety Regulations state that all fall protection equipment must be inspected and maintained properly.
Always follow manufacturers' instructions and guidance on what, when, and how to inspect your Personal Protective Equipment. The IRATA ICOP (specifically Annexes H, I, J) cover the general requirements for carrying out inspections. Every rope tech should, and must, read over technical specifications, and tips for maintenance for EVERY individual piece of equipment they use. There is thorough guidance out there for rope technicians regardless of what training you took! But since it's nearly impossible to have it all memorized, this blog is here to summarize. But we would still advise you to read it thoroughly and independently of this article!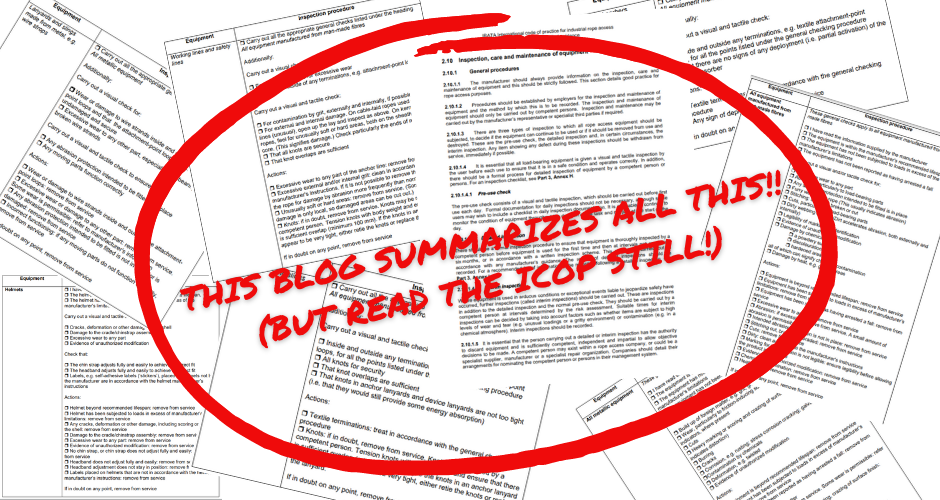 Types of Inspection
Let's get started then. There are 4 types of inspection in which your rope access equipment should be examined. They are the acceptance check, the pre-use check, the detailed inspection, and sometimes in special circumstances, the interim inspection.
Acceptance Check
This is the first inspection you will perform when you buy/acquire a new piece of equipment. It's a common misconception that you can always guarantee the good working order of a new piece of equipment fresh out of the package. There has been a handful of incidents over the years resulting from brand new equipment that made it to retailers after leaving the manufacturer with a missed defect. These instances are extremely rare, but not worth your life. Always check your new equipment with the same inspection protocols that follow. This is also a good time to enter the piece of equipment into your tracking system, recording serial numbers, date of manufacturer, and date of first use. This will help with the organization of your inspections going forward.
Pre-Use Check
Checking your gear before use is the method you should be using most often. You are visually checking all the equipment, looking for any signs of wear and tear, or touching it and going over it with your hands to feel for any signs of malfunction or abnormalities. This is not formally documented but is an overview of your gear every time you use it on a job site. This often takes the form of a "buddy check".
Detailed Inspection
A detailed inspection is much more formal and requires documentation. It's a procedure that takes more time, to ensure the safe use of the equipment over time. It must be thoroughly examined by a competent person (PPE Inspector) before being put into use, and at 6-month intervals (according to IRATA and SPRAT), or in accordance with a manufacturer's guidance (Petzl says 12 months). This inspection should be recorded.
Interim Inspection
There are times when the equipment is used in areas or situations that may be more extreme (unusually large loads, gritty environments, contamination), or when events have occurred that may have jeopardized the safety of the technician. This inspection must be carried out by a PPE Inspector at intervals determined by the risk assessment. Interim Inspections should also be documented.
We are going to focus on the aspects that you, the rope technician, are accountable for. The ICOP states in 2.10.1.4 "It is essential that all load-bearing equipment is given a visual and tactile inspection by the user before each use to ensure that it is in a safe condition and operates correctly." Every rope tech MUST do the pre-use check. But what exactly are you going to look at in this part of the check?
Manufacturers Product Information
First, know the manufacturer's information provided with the item of equipment. Understand and adhere to the manufacturer's manuals, or ask a PPE Inspector (or our trainers!) about it when you have a chance.
Equipment that needs to be inspected
1) All equipment manufactured from man-made fibres (ropes, harnesses, lanyards, slings, energy absorbers):
- excessive wear to any part
- abrasion, particularly load-bearing parts
- abrasion protection intended to be fitted is in place
- furry webbing or rope
- stitching - broken or cut
- cuts particularly on load-bearing parts
- damage by chemicals (powdery substances, discolouration, hardened areas)
- damage by heat (glazed areas)
- performs as intended (knots tie securely, overlaps are sufficient)
- attachment points for loops on harnesses secure/correct assembly/function
- knots in anchor/device lanyards are not too tight for energy absorption
- no signs of deployment of energy absorbers

2) All metallic equipment (descenders, ascenders, connectors, metal lanyards):
- build-up of foreign matter (grit, grease, sealant, paint)
- wear to friction inducting surfaces
- cuts
- heavy markings or scoring and crazing
- burring
- cracks
- corrosion
- contamination by chemicals
- deformation
- moving parts function correctly (handles, locking devices, cams, springs, locking catches)
- hinge pins in good condition
- threaded assemblies are tightened/secured

3) Helmets
- cracks, deformation, damage to the shell
- damage to chin strap assembly
- excessive wear
Read and Know the ICOP for Inspection/Safety Standards
Your safety matters and this industry makes strides in ensuring rope technicians understand the risks, hazards, and challenges associated with working at height. Knowing what to look for, asking the right questions, and understanding all the elements of safety creates a strong and reliable industry. But it starts with every technician doing it for themselves.
Train with Safety In Mind
We have a variety of courses available, for your work scope, that trains for safety. Our Petzl PPE Competent Inspector Course (next one March 21-23, 2023) helps you understand what to look for in a detailed safety inspection. Fall Protection Courses (next on February 27, 2023) are available for those that are working at height and require training in how to implement safe methods for working. Inquire and register with us so that you are a safer employee for yourself, your employer, and the industry.