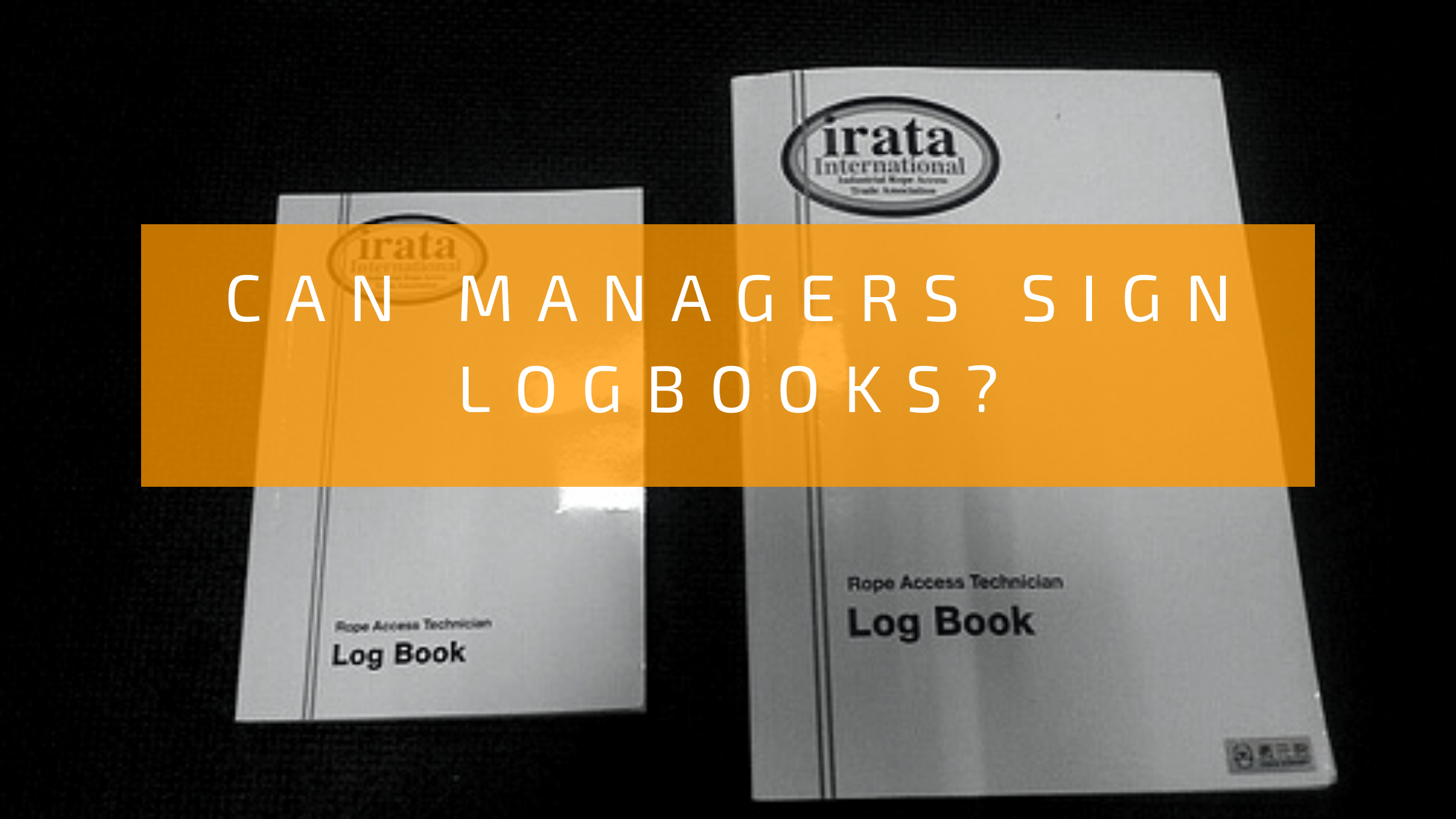 In order for your employees to advance to the next level in IRATA or SPRAT, you'll need to ensure they document all their rope access hours in their SPRAT or IRATA logbooks respectively. These logbooks are sent to them, with their certifications, when they successfully pass their L1 exams. Each logbook is uniquely identified with the person's photo and logbook number so that logbooks cannot be used by anybody else other than the owner.
Part of the IRATA and SPRAT regulation is that each entry of the technician's logbook must be signed off by a L3 Rope Access Technician. However, both IRATA and SPRAT recognized that the industry is young and growing here in North America and therefore, it's not always feasible to have a L3 Supervisor around. So, for now, they've made allowances for Managers and/or Company Owners, basically anyone in authority, to sign off rope access technician hours.
What does it mean to sign hours?
When you're signing someone's logbook, you're attesting that the Rope Access Technician has recorded their hours accurately and that they have been completed on a double rope system. Anything not on a double rope system does not count. Hours that do not count include:
Fall protection or fall arrest,

B

oth professional and sporting caving, climbing, mountaineering, canyoning.

P

rofessional and voluntary rescue services including mountain rescue, emergency services

International rescue organizations

Military training

Scaffold, work restraint, single rope systems, tree work, training other forms of work at height.
You are also attesting that the hours written down are true. This means if your employee said that they worked 80 hours on rope for the two weeks written on that line, you have to back that up as true. Meal breaks, down time, schedule changes do not count as rope access hours either.

How Do I Sign Hours?
When you sign a line in a logbook, you'll need to print your name, position, phone number, and email under the signature portion of the entry. This is so any future Assessors or Evaluators can contact you to verify that your employee did indeed perform those rope access hours.
What if I have to sign multiple entries?
If you're the only Manager that a Rope Tech has worked for in the last few years, then you may be the only person signing that person's logbook. In those instances, you can produce an official letter (on company letterhead) verifying multiple entries. The letter should contain the dates of the entries, your name, signature, position, phone number, and email. You'll still need to sign the logbook entries but you don't have to write out your information in every single box.
Who is considered a person of authority?
Examples of people who can sign logbooks include any L3 Supervisor from other rope access associations (Soft L4, ARAA, etc.), Project Manager, Managing Director, Owner of the company. If you're not sure about the person's position in our company, feel free to contact us to ask!
What if I own the company?
If you're the owner of your own company and you need someone to sign your logbook, the next best thing is to ask your clients to verify the hours for you. Same as above, they'll need to print their name, position, phone number, email and company.
What should logbook entries look like?
Take a look below! This is what a perfect logbook entry should look like. If you're seeing poorly maintained logbooks from your employees, send them this page!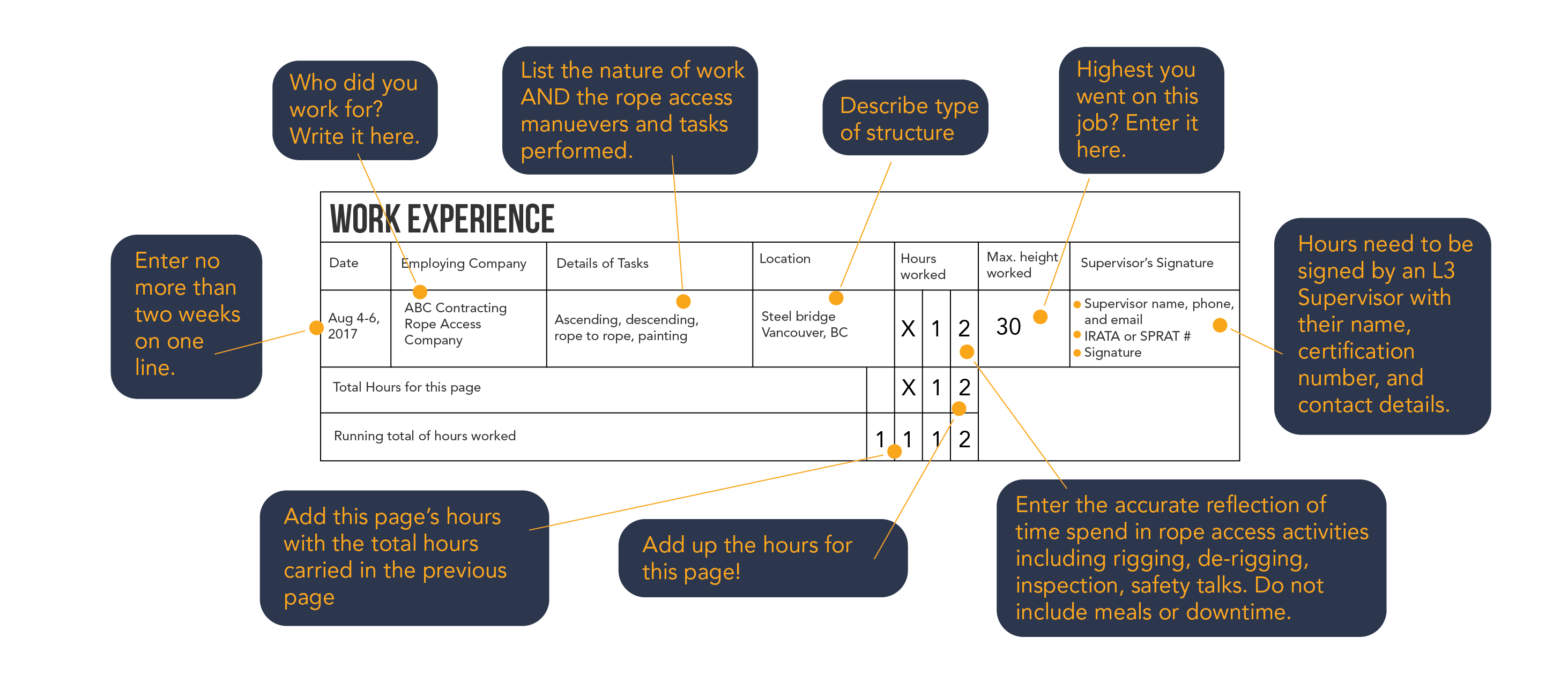 Why all the fuss on maintaining logbooks?
The logbook confirms the experience of a technician and experience is what they need in order to upgrade to the next level. When they upgrade levels, they are assuming more safety responsibilities when it comes to working at height. Working at height is not to be taken lightly and safety is paramount in ensuring everyone gets home at the end of the day. If technicians are lying or falsely recording hours in their logbook, they are not just cheating the system but they are cheating themselves, their co-workers, and you! Safety can only be achieved by experience, and although there are always inherent risks, the more time spent on a rope increases experience/knowledge and reduces opportunities for mistakes.
What happens if my employee loses their logbook?
Yikes! You can definitely send them to us and we'll help sort it out. But here is the process for recovering a logbook.
Check out some more information regarding Logbooks