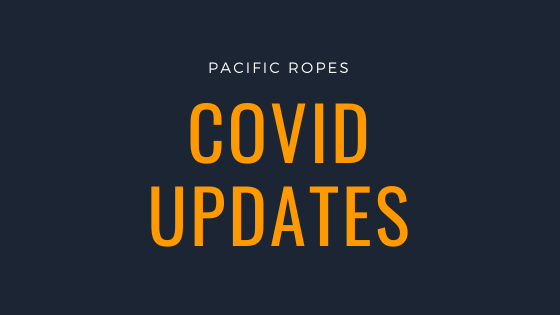 We are continuing to manage the COVID-19 pandemic at Pacific Ropes, while communicating with industry and reviewing our internal business risk assessment for operations.
Due to the dynamic circumstances around the current pandemic, and the BC & Alberta Provincial states of emergency, and with careful industry input (IRATA training and assessment community), and our most recent consultation with BC Ministry of Health personnel; it is with great sorrow that we announce the suspension of all in person safety training until further notice.
Course suspensions include:

- IRATA and SPRAT rope access
- Tower Climbing and Rescue
- Fall Protection
- Custom Rescue courses
While we were making every effort to maintain the course schedule for existing students, our risk assessment of the current situation does not look favorable and we cannot move forward without the possibility of introducing risk to our staff, students, and their respective families and community. It is all of our duty to help reduce the spread of this virus, and within our training division it will be next to impossible to completely mitigate that risk.
We will continue to monitor this situation closely, and will open up courses once we are able to offer a safe environment to train in.
If you would like to be included on a waitlist for immediate notification when training commences again, please visit our registration page and fill in the form.
Our office will be open for communication via phone and email. Our online equipment store is also available in case you require those services.
We wish you and your family the best during this challenging time.